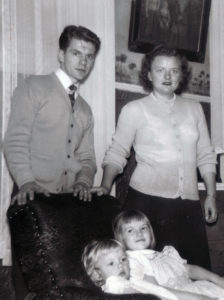 You See Me is a documentary film about the filmmaker's family. Veteran documentarian Linda J. Brown tells her family's story. She is searching for meaning, understanding, and resolution in the lifelong dynamics of this family. Her father, Stanley, is the central character, the central mystery.
Brown uses interview, narration, and a treasure trove of family movies to tell her painful yet touching story. The inciting incident for the film's production was Stanley's debilitating stroke at age 79.
Brown wanted to understand why her father seemed disconnected at times? Why was he abusive at times? What happened to him? Did he love his wife, Brown's mother? The film answers these questions, and along the way we learn about each of the five family members.
When viewing a well-made documentary about a particular family it is inevitable that viewers find themselves reflecting on their family experience. You See Me is no exception. Brown has done an admiral job of digging, investigating, and exploring her family's history to find her own resolution—and inspiring us viewers to reflect on our family experiences.