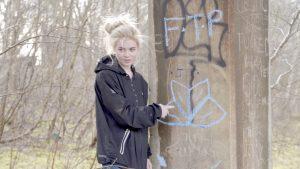 Gemma is 18 years old. She smokes cigarettes, and lives in Motherwell, Scotland—a thriving community until Margaret Thatcher's policies brought down the steel mill. She and her companions are called 'scheme birds.'
"A scheme," she says, "is like a non-snobby place to stay."
Gemma never knew her mother. She was raised, instead, by her grandfather who she calls Papa.
Papa is teaching Gemma boxing. When not teaching, Papa raises and releases large numbers of pigeons. Every Friday Papa hosts a kind of competition regarding which is the finest pigeon that day. Gemma says the birds fly around the world, most return.
Directed by first-time feature documentary directors Ellen Fiske and Ellinor Hallin, Scheme Birds follows Gemma and her friends as they drift into adulthood.
You will not forget Gemma.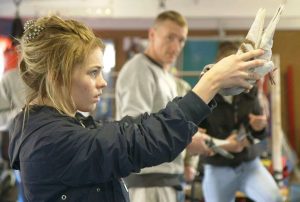 Scheme Birds had its world premier at the 2019 Tribeca Film Festival where it won Best Documentary Feature and the festival's 'Albert Maysles New Documentary Director Award.'
You may access the film here.
(I hope Gemma finds a way to quit smoking.)