"I like to save things, especially if they're too far gone." Michael Zahs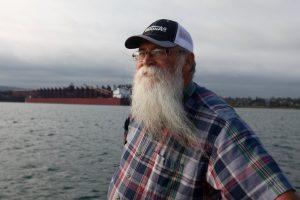 A deceased father reconnecting with his living son is not the only dream that came out of Iowa.
Filmmakers Tommy Haines, John Richard, and Andrew Sherburne tell stories of film pioneer William Frank Brinton and the savior of Brinton's historic work, Michael Zahs.
For more than seven decades, the pioneering cinematic work of Frank and Indiana Brinton was buried and decaying. Saving Brinton covers Zahs' 1981 discovery of this treasure trove of cinematic history virtually buried in the basement of an old Iowa farmhouse. Zahs spent decades promoting the preservation and restoration of both the equipment and media created by the Brintons between 1895 and 1909.
Zahs' passion, perseverance, and accomplishments are as breath-taking as the work he uncovered and shared with the world. After viewing this must-see documentary, it is clear that the overlooking of the Brintons' work was egregious and potentially tragic. Thanks to Zahs' initiatives a crucial chapter in the dawning of cinema is saved and available for all to see and study.
Given Michael Zahs' actions and accomplishments, Saving Brinton deserves to be seen not just by cinephiles, but by anyone and everyone who can be inspired by the depth and breadth of his vision and character.
(Pictured: Michael Zahs)