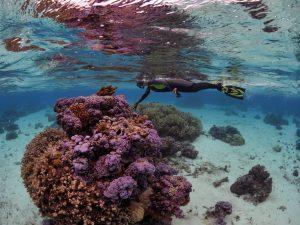 "If some tropical reefs are able to survive, it will only be because we are finally willing to fight for them." David Baker, Director, Oregon State Productions
Humanity's attack on the natural world is massive—on a seemingly uncountable number of fronts. We can see the land, the sky, and rivers. But, for all intents and purposes, we see only the surface of our oceans. Just beneath the ocean's surface live—or used to live—corals.
Narrated by the ubiquitous Peter Coyote, Saving Atlantis delves into the underwater world of corals—a world under assault by human beings. In the past 50 years more than half the ocean's corals have disappeared. The two primary causes are rising atmospheric temperatures which also raise ocean temperatures, and oceanic acidification caused by excess carbon gas. Yet, corals play a vital role in preserving the health of the Earth's ecosphere.
Filmmakers Justin Smith and David Baker take us around the world, visiting 17 locations, hearing from researchers, activists, and people whose lives are directly affected by this loss. The clarion call is sounded. We also see and hear hope. The film highlights inspired people-driven initiatives to mitigate this destruction and loss.
An Oregon State University production, Saving Atlantis is expertly crafted, visually gorgeous, and needs to be seen by everyone.