Boy, am I late to the party for this one. Samsara was released more than five years ago.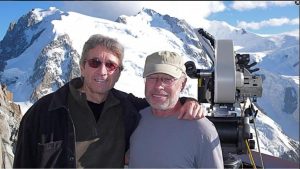 I was watching Issabella Rossellini's Green Porno Live on Netflix. The film kept freezing. After several tries I gave up, and began searching the site for something else, one that would not freeze.
The title Samsara intrigued me. I love knowing nothing about a film. Instead, I enjoy the process of discovery.
I put on the unknown, and was captured instantly. Like two recent films—The Pearl Button and In Pursuit of Silence—this film became a meditation. At times, a chaotic one.
When released from the film's grip I ran to IMDBpro and discovered it was directed and shot by Ron Fricke—and co-written, co-produced, and co-edited by Mark Magidson who also worked with Fricke on Chronos and Baraka. I have seen Fricke's brilliant work beginning with 1982's Koyaanisqatsi—and then Chronos, Baraka, Star Wars: Episode III – Revenge of the Sith, and Fog City Mavericks.
His meditative films have a bad habit of leaving me speechless. With Samsara I was overwhelmed with the richness and clarity of images from the beatific to the horrific and everything inbetween.
There is one image that appears frequently throughout the film: The human face, looking into camera, piercing our eyes, seemingly our soul.
It would take several viewings to speak in detail about this film to sound anything close to erudite in an analysis. With a single viewing I can only speak from my heart: Samsara is a cinematic masterpiece that has a transformative impact on those who chose to let it in.
Better late than never.
(Pictured: Ron Fricke and Mark Magidson on set.)