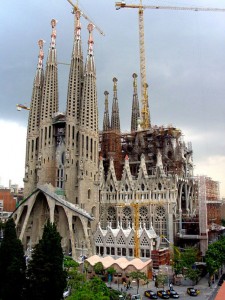 In addition to exposing the horrors of our world, documentary films also reveal the beatific and ecstatic. Sagrada: The Mystery of Creation falls in the latter category.
Designed by Catalan architect Anton Gaudi (1852–1926), La Sagrada Familia began as a cathedral in the now massive city of Barcelona. It has been under construction since 1882. It's very big.
In 2010, Pope Benedict the 16th consecrated the church so it is now categorized as a 'minor basilica' instead of cathedral.
Sagrada: The Mystery of Creation was written, produced, and directed by the accomplished and celebrated Swiss filmmaker Stefan Haupt who covers the colossal church and its work in progress cinematically, and provides an outline of the church's meandering, checkered history. Although that history is intriguing, it is Haupt's stunning visual coverage that captivates the audience.
At film's end this captive was ready for another documentary—filmed with drones inside and outside the imposing structure, along with a companion website that allows users to explore the church in fine detail.
Sagrada is distributed by First Run Features in the United States. It is currently in theatrical release, and will be released on DVD on May 12th.
http://firstrunfeatures.com/sagrada.html