Has anyone else noticed this irony? That in a nation so magnificently obsessed with breasts, the one women's disease on which we chose to focus is breast cancer. How many times outside your home and in the media have you seen the phrase, 'breast cancer'?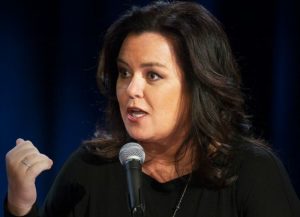 Instigated by my mother's untimely death from easily preventable heart disease, I began to wonder, 'What about other diseases that injure and kill women? Why breast cancer?' I made a few inquiries, I don't remember the numbers, but many, many more women die from heart disease annually than breast cancer.
Rosie O'Donnell gives us the hard-to-forget specific answers in her HBO hour-long stand-up performance, Rosie O'Donnell: A Heartfelt Stand-Up. It's a bait-and-switch routine. We get 45 minutes of stand-up comedy mined from her family experiences. Although the material is traditional, the performance is perfect. But, that's not why we're watching.
O'Donnell fills the last fifteen minutes with her harrowing experience of a heart attack – the sort that is rarely, extremely rarely survivable.
The answer is: 30,000 women die annually from breast cancer; 300,000 from heart disease.
Another answer Rosie provides is how to know you're having a heart attack – if you're a woman. That answer is HEPPP: Hot, Exhausted, Pain, Pale, Puke
Feeling Hot, Exhausted, having Pain, looking Pale, and Puking – these are the five warning signs that you are having a heart attack.
(Like so many other things in life, it's much easier for us guys to know things are not quite right in our chest.)
For those who wish to reduce their heart disease and stroke risks, in addition to diet, exercise and stress reduction, I suggest you avail yourselves of the resources at www.lef.org
http://www.hbo.com/documentaries/rosie-odonnell-a-heartfelt-stand-up#/