Narrated by Forest Whitaker, Rising from Ashes is a story of reconciliation – the creation of the first Rwandan National Cycling Team. The film follows the team's six years of training and development concluding with their 'riders' competing in the 2012 Summer Olympics in London.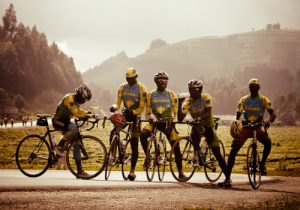 There's another story – that of Jock Boyer. His is one of redemption. Boyer is a legendary rider who ran into trouble with the law, did some time, and came out a somewhat humbled man. Perhaps he didn't know how much he changed until he took on the job of training the Rwandan team.
Boyer became a father figure to these young men who had access only to junk bicycles. Other trainers had come and gone. Their departure was poignantly painful for these riders in light of the lack of father figures in this nation devastated by years of genocide.
Boyer recognize both the passion and the pain his riders brought to their sport. He made the challenging, graceful decision to remain with the team. In doing so he became part of Rwanda's modern history.
The film's last shot shows a Rwandan rider crossing a London finish line, and it's a bit confusing. The team did not win a metal that year, but the value and significance of what they did win simply by making it into the Olympics is immeasurable.
The film's cardboard case includes the following statement:
"Due to the success of the film, the Rising From Ashes Foundation was formed to support reconciliation and conflict resolution efforts using the bicycle."
http://risingfromashesthemovie.com/
http://www.rfafoundation.org/