Produced and directed by Nancy D. Kates, and premiered by HBO in December of 2014, Regarding Susan Sontag is a masterpiece of biographical documentary filmmaking. In less than two hours we are introduced to the life and character of Susan Sontag (1933-2004).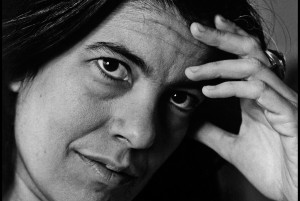 With respect and reverence, Kates' filmmaking style mirrors Sontag's multi-faceted character, career and personal life. The richness and depth of Sontag's mind, passions and life are simply overwhelming.
Patricia Clarkson voices Sontag's autobiographical writings, and the perfectly produced and mixed music is composed by Laura Karpman and Nora Kroll-Rosenbaum.
Regarding Susan Sontag instantly leapt into my all-time favorites list of documentary films. A person whose name barely existed in the Antarctic of my brain and about whom I knew absolutely nothing, is now a fond memory.
http://sontagfilm.org/