On, May 23, 2011, documentary filmmaker Neil Diamond received the Peabody Award for his film Reel Injun at Waldorf-Astoria Hotel, in New York, New York.
How many people have seen this film? Even heard of it? The eternal questions and the dilemma for those who make and those who love seeing documentary films.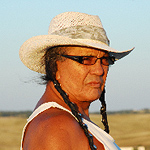 Thanks to From the Heart's Carol Dean I was directed to see this film. The viewing prompted yet again that feeling, 'Where have I been?!'
Diamond's film tracks the devolution and evolution of images of Native Americans depicted in films beginning in the Nineteenth Century. The information and stories are crucial, vital, and another painful reminder of the decimation of the continent's pre-Columbian population perpetrated by European colonizers. A reminder, too, of the value and values of the people incorrectly called 'indians.' For yours truly the film is a history lesson, one I should have learned decades ago.
Diamond's approach is simple, sincere, and as comprehensive as 85 minutes of film covering a collection of 4,000 films can be. His interviewees include Sacheen Littlefeather, John Trudell, Russell Means (pictured), Chris Eyre, Clint Eastwood, Jim Jarmusch, and Robbie Robertson. Trudell died recently—on December 8, 2015.
A small percentage of the documentary film's I see are 'must-see.' Reel Injun is in that imperative category.
I've found the film on Netflix, eBay, and Amazon.