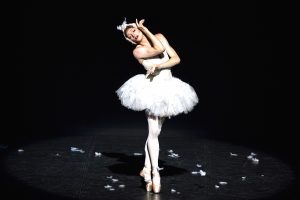 "I love dance. I'm putting my heart on stage. My soul is dancing. It's not just me. It is like I am living a dream." Carlos Hopuy, a dancer and a Trock.
Americans' perspectives on gender identity and sexual behavior are going through a dizzying expansion. Having seen Bobbi Jo Hart's Rebels on Pointe it is obvious that the more than 4 decades of the ballet company called 'Les Ballets Trockadero de Monte Carlo' is one of many forces which has nurtured that opening of minds and hearts.
For the uninitiated, the 'Trockadero' is a ballet company which features male dancers in drag—dressed, wigged, and made up as ballerinas. Their performances merge ballet with physical comedy, and their appeal is universal.
Hart introduces the troupe, spends time with a few of the dancers, hears from dance critics, company staff, and offers plenty of performances in her ninety minute documentary.
Trockadero artistic director and former company dancer Tory Dobrin appears frequently throughout the film providing a sense of the company's history. Dobrin affirmed the sense of Trockadero's social impact I was picking up when he commented, "In our own way, we've exposed millions of people to a gay sensibility. And, we did it with a lot of talent and a lot of good cheer. We have definitely made contributions to opening up society to things that are a little bit different than the straight and narrow."
I found the film's heart in hearing from the featured dancers (also known as 'Trocks') as they speak of the impact the Trockadero has had on their lives and families—and, much to my amazement—as they apply their own elaborate makeup.
Rebels on Pointe tells the story of a unique ballet company, and also a story about the changing of our world. The film is distributed by Icarus Films.