Born and raised in New York City, arrested a couple times, maybe more, and with a difficult family background, Matt Weber found meaning and passion with photography – street photography, to be specific – with a film camera rather than digital, and in black and white.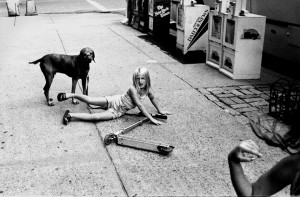 Produced and directed by Dan Wechsler, More Than the Rainbow focuses on Weber's work as well as that of several of his New York peers including Ralph Gibson, Zoe Strauss, and Eric Kroll, Dave Beckerman, Ben Lifson, and designer Todd Oldham.
A fast-talking, determined photographer, Weber lives a fast-paced life in a fast-paced metropolis.
After going through New York, hearing from the photographers, seeing their work, and learning of Weber's life, the 80 minute film seems twice that long with so many elements packed into so little time. This is a film to be viewed more than once – especially given the generous amount of still images the viewer may enjoy on their HDTV.
http://firstrunfeatures.com/morethantherainbow/
http://weber-street-photography.com/