The standard environmental documentary film presents evidence and stories of our destruction of our ecosphere. The information is overwhelming, the prospects for the necessary massive changes in our behavior are bleak. But, as a perfunctory nod to the idea of positivity, a few solutions are mentioned at the end. "You see, it's not all bad." Well, not according to what I just saw.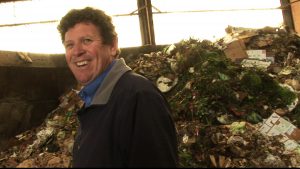 Christopher Beaver's "Racing To Zero" is a radical departure from that cinematic motif. His film documents nothing but solutions, and having just viewed it, I am overwhelmed by solutions.
The catalyst for this film is the well-publicized announcement by San Francisco to be waste-free by 2020. Nothing goes into a landfill. The "Zero Waste" program is part of a broader San Francisco environmental initiative called San Francisco Climate Action 0 50 100.
Beaver and his producer Diana Fuller—who originated the idea for a film about San Francisco's initiative—follow four key players as they introduce us to their roles in ending waste in San Francisco. they are:
Robert Haley: Zero Waste Manager for San Francisco's Department of the Environment.
Mike Biddle: entrepreneur and founder of MBA Polymers, specializes in recycling plastic.
James Kao: Owner of Green Citizen, a San Francisco-based company that specializes in recycling electronics safely and cleanly.
Robert Shaffer: an agronomist and farmer who champions the values of compost.
"Racing To Zero" presents a metropolitan city making itself a beacon of light in the attempt to reverse our environmental destruction. It is the feel-good environmental film of the year—perhaps the first ever.
To order a "Racing To Zero" DVD in the United States, go to the film's website.
The film is distributed internationally by APT Worldwide.
(Pictured above is Robert Haley with the garbage he loves to save. Photo courtesy of "Racing To Zero".)