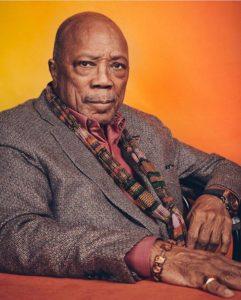 You go to the IMDB site for Alan Hicks' and Rashida Jones' Quincy and count the number of celebrities who appear in this documentary about the legendary Quincy Jones, and you will find at least 76 people who, like yours truly, are in awe of the talent and accomplishments of this iconic showbiz survivor.
Quincy Delight Jones, Jr. was born in 1933, and is still very much with us. The impact of his contributions to our world transcends the countless musical talents he has supported over the 70+ years of his career. The list of awards and nominations he has received is so long that Wikipedia created a separate page from his primary Wiki site to house those honors.
In a too-short two hours, Hicks and Jones provide an outline of Jones' biography, affectionate and reverential lauds by the aforementioned 76 people, and a soundtrack that sparks the viewer's impulse to get up and dance. Jones tells his story through narration and archived interviews.
The film has an arc. Between the various scenes there are references to an upcoming event, the opening ceremonies and celebration of the Smithsonian National Museum of African American History & Culture of which Jones is the primary producer—a fitting conclusion to the film. There is more information about that celebration here.
Quincy is as jaw-dropping as it is delightful.