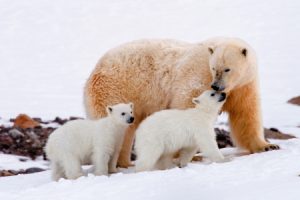 "When I look out this window which had been chewed by polar bears, both from the outside and inside, I think maybe I belong to the last generation who will see a polar bear walking on the ice outside."
Asgeir Helgestad
Asgeir Helgestad is a prolific, multi-talented wildlife cameraman from Norway. For more than 20 years his second home—and the location of this film's production—has been on Svalbard, a group of islands between Norway and the North Pole about which he says, "The amazing lights, the vast landscapes, the silence, and the feeling of being completely alone with nature gives me a feeling of peacefulness I cannot find anywhere else."
Queen without Land tells the story of his meeting with, and four years following a female polar bear he named Frost. Requisite to a film of this subject Helgestad also tells the story of global warming's impact on the arctic region's ecosystem—in more detail than I've heard from previous documentaries.
The film's cinematography is utterly exquisite, virtually demanding multiple viewings. Helgestad's character is sweet and caring. The story he tells of polar bears and the damages done by global warming is, of course, demoralizing. Yet the many cinematic images of polar bear mother and cubs playing together penetrates the heart and soul.
Stay in touch with the film's website to learn its release dates.