Private Violence is a well-produced documentary about domestic violence in the United States. The statistics on this type of violence – which is primarily perpetrated against women – and the occasional flurry of national news headlines are chronically horrifying.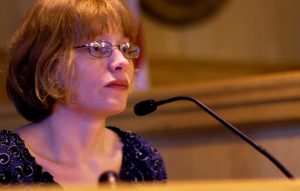 Produced and directed by Cynthia Hill, and premiering October 20, 2014, on HBO, Private Violence follows the advocacy work of abuse survivor Kit Gruelle as she works with Deanna who is seeking safety from and justice for the violent acts of her ex-husband. Hill effectively captures the intimacy of the deep and wide emotional arc Deanna must traverse in order to realize that safety and justice.
Eschewing a mountain of statistics, Hill makes visceral the nature of domestic abuse, of violence against women. She's told a story that inscribes itself in our memory, and introduces two compelling characters finding the heroic in their ordinariness.
http://www.privateviolence.com/