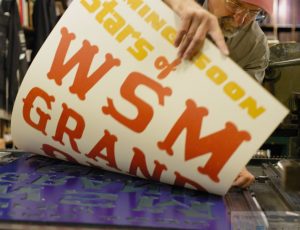 "The new generation is fascinated with obsolete technology. They've grown up with extendible fingers, Game Boy, texting—and here's letterpress? You betcha."
Paul Brown, letterpress printer
For a little more than four hundred years printing was done by a process called 'letterpress.' Good ol' Johannes Gutenberg started the craze which slipped away in the mid-twentieth century, replaced by our computerized printers—and something called 'offset' for big printing jobs.
First-time feature directors Erin Beckloff and Andrew P. Quinn let us viewers know that Gutenberg's letterpress is alive and well in the United States, and that the craft has a small number of highly dedicated practitioners. In Pressing On the filmmakers listen to these passionate craftspeople tell their stories, and show off their wares and the many documents that are still being produced. Most of the letterpress enthusiasts featured are approaching or in the later years of their lives, but some are teaching young people how to print via letterpress.
The four main ingredients of letterpress are:
• Fonts that are designed and crafted into various sizes.
• Various kinds and sizes of trays into which the individual characters and graphic designs are placed.
• Inking of the press.
• The pressing.
In addition to serving businesses and organizations, some letterpress printers are selling their handcrafted work at farmers markets. We also learn that the Smithsonian Institution has a large warehouse of letterpress machines and accoutrement that the letterpress community wants taken out of the de facto basement, and back to work.
The film also introduces two letterpress museums: Platen Press Museum and Hamilton Wood Type & Printing Museum
Available from Amazon and Amazon Prime, Pressing On is an excellently produced documentary that reveals a small, vibrant community keeping this four century old art and technology alive and expanding.