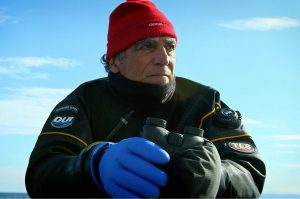 Written, produced, and directed by Dani Menkin andYonatan Nir, Picture of His Life profiles iconic—and very courageous—underwater photographer Amos Nachoum. The aging photographer has at least one more goal to fulfill—to be the first underwater photographer of polar bears.
The film includes interviews of several iconic ocean lovers including Dr. Sylvia Earle and Jean Michel Cousteau, as well as comments by his sisters and his father who suffered from war-based PTSD, and was abusive to his son throughout his life. We also hear from his two sisters Michal Gilboa and Ilana Malchoum speaking about Amos' life.
Of course, there are stunning still photographs and cinematic shots throughout the film. And, yes, Amos Nachoum did take photographs of polar bears under the water. His first attempt failed on account of a very annoyed male polar bear. Yet this was actually a positive outcome on account of his team's discovery of a female polar bear with her two cubs swimming in the water. The team followed the three bears onto rugged land.
The film has received at least several film festival awards, and strong reviews from CNN, San Francisco Chronicle, and The Hollywood Reporter.
Picture of His Life is a beautiful film, about a beautiful man, and our beautiful, yet highly endangered natural world. I fully recommend it to everyone. See the film's website to find the film.