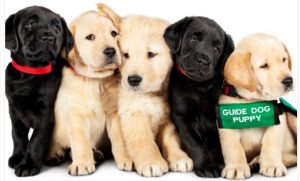 "If they're given a command that might put their person in harm's way, they have to make the decision to not take that command. Every other service dog is trained to take commands no matter what."
Pick of the Litter is an introduction to the work of Guide Dogs for the Blind which trains dogs, and matches them with their persons. The organization has two campuses: San Rafael, California and Boring, Oregon.
With footage from both campuses, directors Dana Nachman and Don Hardy follow a litter of five puppies through the rigorous—for both trainees and trainers—process of training which begins before conception. That is, the organization carefully chooses the mother and father of the puppies to be conceived, gestated, and birthed. Approximately 800 puppies are born every year, about 300 become guide dogs. The remaining 500 find loving homes—and a select few of female dogs become mothers for the puppies to be trained.
For reasons unbeknownst to yours truly, all five puppies in this film must have names beginning with the letter 'P'. The five names are Phil, Potomac, Patriot, Primrose, and Poppet—two females and three males.
The dogs are fostered for a short period of time with vetted volunteers who take their jobs very seriously. Both foster parents and subsequent trainers participate in the dogs' development and training. I was touched to see fosters and trainers become disheartened—blaming themselves when there are problems along the way. Of course, it's all worth it. The film demonstrates the inestimable value these dogs bring to their people.
The gorgeous music of composer/performer Helen Jane Long deeply enriches the experience of this film.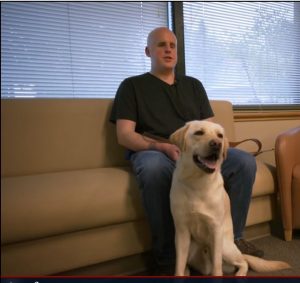 Roger Ebert once noted that no good movie can be too long, and no bad movie can be too short.
I became entranced and awe-struck by Pick of the Litter from the beginning. I simply did not want the film to end. And, I got my wish! Guide Dogs for the Blind announces a Pick of the Litter docu-series on Disney+ which I am already viewing.
You may find Pick of the Litter by going to the film's website, scrolling down to WATCH THE FILM, and viewing the many ways the film may be accessed.