When Louis Malle's My Dinner with Andre was released in 1981, the film asked and answered the question: Can two guys talking at dinner make a movie? The answer, of course, was 'yes.' I was as surprised as the next guy to find myself enraptured by Wallace Shawn's and Andre Gregory's conversation.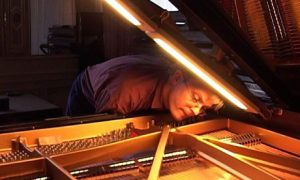 I was equally surprised to find myself so thoroughly engaged and entertained following a piano technician around for ninety minutes as he tunes pianos for the world's finest concert pianists.
Stefan Knüpfer is Steinway and Sons chief technician and 'Master Tuner' in Vienna. His work in service to concert pianists approaches the esoteric as the sound of a struck piano key can be broken down into a myriad of dimensions. In this particular world of sound, one man's metaphysical perception is another man's 'Huh?'
As Knüpfer hustles to satisfy the mystifying requirements of his charges, I was reminded of John Cleese's Basil Fawlty character in the BBC series, "Fawlty Towers". Knüpfer manages his challenges with a bit more aplomb than Mister Fawlty, but Knüpfer's 'you want WHAT?' is right there, just below the surface.
Directed by Robert Cibis and Lilian Frank, the film's production quality with its luminous visuals and pure sound mirrors that of Knüpfer's clients' performances.
http://firstrunfeatures.com/pianomania