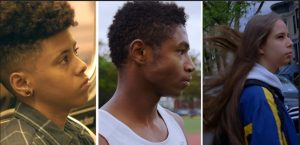 Juliane Dressner's, and Edwin Martinez's Personal Statement is much more than a very well-done, inspiring feature documentary film. It is also a crucial campaign.
The filmmakers seek to give young high school students—especially the disadvantaged—the opportunity to receive and complete a college education. In addition to the usual documentary website, the film includes a strong media campaign called #WeBelongInCollege to promote high school students moving on to college.
The film's heroes are three high school students: Christine, Karoline, and Enoch. All three are talented, motivated and passionate about their education. All three face many challenges the most daunting of which is living in a society that does not effectively support the college education of young people.
Yet, recognizing that there is an inadequate number of well-trained counselors who specialize in supporting high school Seniors on their move on to college, each of these three students provide counseling and encouragement to their peers who are considering or seeking this advancement to college. And, of course, there is the agonizing requirement of students to compose and provide a 'personal statement' to impress and entice their ideal school.
The film covers each student's home life, school life, the counseling they receive, and the three's work as counselors themselves to their peers. We see the tough time they have determining their preferred school of choice—whether or not they get that choice. But, of course, these three students do move on, and we see the ultimately gratifying results.
Personal Statement is an engaging and inspiring film—with the inevitable soupçon of painful and happy tears.
(Photo courtesy of 'Personal Statement')