Through happenstance Ellie Edwards learned – in great detail – of the dire need for human kidney donors. She decided to donate one of her kidneys – motivated by nothing more or less than altruism. Edwards learned about the system of kidney donors and recipients, and found Kathy who had been receiving dialysis for many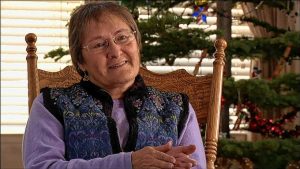 years, and began the process.
Accomplished filmmaker Jan Krawitz tells the story of these two women in her perfectly-titled film, Perfect Strangers.
'Why?' is the inevitable question Edwards had to suffer from countless confused or opinionated people. She does the best she can, of course, and offers excellent reasons. But, there is no right answer to this question. The angry person, the skeptic, the embittered can always shut the giver down by pointing out that since they are aware they are giving, their motivation cannot be truly altruistic.
The good news is that altruistic behavior is a part of human DNA – anger, bitterness, and narrow-mindedness be damned.
By virtue of her literally life-long experience making documentary films, Krawitz tells this story of giving and receiving with standard-bearing production quality – along with an immeasurable amount of heart.
http://www.perfectstrangersmovie.com/