People of the Feather is one of the best reviewed and has received the most accolades of any documentary film I've seen in the last few years. Joel Heath's documentary observes the Inuit people of the Belcher Islands, in Canada's Hudson Bay, and their gorgeous, endangered environment.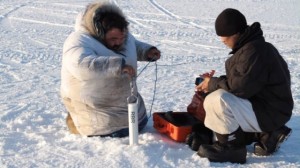 With sensational cinematography, the film observes the land, water, seasons, and the people of this far-north region. Crucial to the people's lives are eider ducks which sport the warmest down in the world. The ducks and the water ecology of the region are threatened by untimely, controlled fresh water runoffs from damned rivers. Consequently, People of the Feather is more than a nature or anthropological film. It's also a call to action to save the millennial long relationship these Inuit people have with their land, water and seasons.
Heath provides glimpses of the people's lives now as well as reenactments of their lives before technology and development. His coverage includes the killing and slaughter of an eider duck and a seal. The seal is slaughtered at the kill site, and its raw liver is shared amongst the men present.
Viewer discretion warning notwithstanding, People of the Feather is a beautiful, touching, haunting film which tells the sadly-classic story of the conflict between indigenous humans and human population growth, technology, and human-generated climate change in a captivating new way.
http://www.peopleofafeather.com/