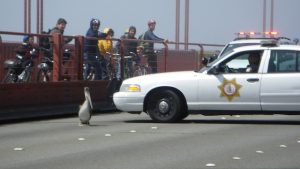 Judy Irving, the producer/director/cinematographer/editor of the wildly successful The Wild Parrots of Telegraph Hill has given us another delightful avian-based documentary, Pelican Dreams.
The story's inciting incident occurs on the Golden Gate Bridge. Traffic is backed up—well, that's business as usual. But the unusual cause of the blaring horns is one young, lost pelican walking the bridge, unable to fly.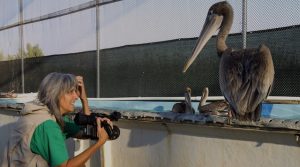 This event is the springboard to an exploration of the worlds of pelicans—their beauty, grace, intelligence, and the environmental challenges they face. Irving follows Gigi's recovery through release into the wild. Along the way we meet Morro, another rescue too wounded to be released, but who finds a loving retirement home.
Judy Irving is a talented filmmaker who covers my favorite subject, nature. I hope to see more of her story-based films, and that the world will provide the support she deserves and needs to produce her films.