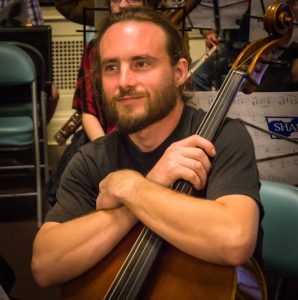 "I never contemplated the Me2/orchestras being this vehicle for social change. And Ronald had this wild idea, and now we see it changing people, taking them from this place of darkness into a place of strength and confidence."
Caroline Whiddon, Cofounder and Executive Director of Me2/Orchestras
When he was ten years old, Ronald Braunstein's father took him to see the Pittsburg Symphony Orchestra play Beethoven's Ninth. Right then and there the young boy decided that conducting orchestras was for him. He did just that, became a well-lauded symphony conductor.
Braunstein attended and graduated from Julliard as a conductor. Amongst many other accomplishments, he won First Prize at the Sixth International Herbert Von Karajan Conducting Competition in Berlin—the most prestigious and competitive conducting competition in the world. He was the first American to receive this honor.
Braunstein's conducting career was sidelined when his bipolar disease became evident at 30 years of age.
Braunstein met his now wife Caroline Whiddon when he was applying for a job. At the time Whiddon was executive director of an orchestra, and was seeking a new conductor. She hired our hero, who was still being sabotaged by his illness. He lost this job, but Whiddon maintained a friendship with Braunstein—that is, she fell in love with the fallen conductor, they married, and have a beautiful and fruitful relationship.
Braunstein and Whiddon decided to do something about people suffering from mental illness. The idea is simple: Create an orchestra that contains a large portion of suffering victims of mental illness. The film does not reveal the precise origin of the idea of starting an orchestra of and for musicians with mental disorders, but one factor pointing to this emergence was Whiddon's own suffering with mental illness symptoms. In any case, the two started the Me2/Orchestras. Note the plural. The idea and its execution has been so successful that there are Me2/orchestras popping up in the United States and elsewhere.
In Orchestrating Change filmmakers Margie Friedman and Barbara Multer-Wellin let the loving couple and many of their musicians tell their stories of lost and found, of finding healing in playing orchestral music with their peers. Most documentary films have a music score. This film, of course, has its own built-in score of classical pieces.
Distributed by Bullfrog Films, Orchestrating Change is as inspiring and endearing as a film can be. In addition to seeing the film, I encourage readers to check out the film's Website as well as its Discussion Guide.