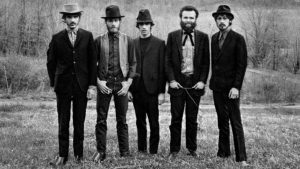 "I don't know of any other group of musicians with a story equivalent to the story of The Band."
Robbie Robertson
"I've never been in a band that long. I ran away, usually, and would move on to the next thing that was attractive to me. So, I didn't have a sense of brotherhood. I was in great awe of their brotherhood—it was the soul of The Band."
Eric Clapton
Directed by Daniel Roher, Once Were Brothers tells a story of many stories. The film is one of the finest music-based documentaries I have ever seen. Robbie Robertson, the film's virtual host, tells his personal story and the behind-the-scenes 17-year history of 'The Band.'
The likes of Eric Clapton, Bruce Springsteen, Martin Scorsese, Taj Mahal, George Harrison, Bob Dylan, Peter Gabriel, Van Morrison, and others appear throughout the film sharing their respect and admiration for the five members, the band they formed, and the musical legacy they have given the world.
Robertson's mother was born and raised in the Six Nation Indian Reserve in Canada. His introduction to the guitar occurred during visits to the Reserve. His musical 'big bang' was the explosion of early rockabilly and rock'n'roll. The prodigy was in his first band by the age of 13.
A big fan of Ronnie Hawkins and the Hawks, Robertson found himself with a connection to Hawkins. When the 15 year old boy heard Hawkins needed a songwriter to write two songs, he wrote those two songs which appeared on Hawkins' next album. The prolific songwriter was born.
If there was a single force that catalyzed the creation of The Band, that would be Bob Dylan. Seeking a purity of music, circumstances found the future members together in bucolic Woodstock, New York, living, playing, and creating together in a pink house. They were discovering, if not creating, a genre that melded rock, folk, and country. Dylan got wind of something important going on at this home in the country, spent time with the musicians, and ended up using the five as his backup band for the 1966 infamous tour of Dylan's transition to the rock genre and world. Every stop was mired in boos for what folk music aficionados experienced as a deeply painful betrayal. Dylan expressed no qualms about the boos, but the future band members certainly did.
During the time Dylan and the musicians were working together at this pink house, the community of people around the home would refer to the five musicians collectively as 'the band.' When the time came for the guys to form their own group, they adopted those words everyone used when referring to them—"The Band". Their first album, Music from Big Pink, was a 'big bang' in the music world.
For us fans the dissolution of The Band was a painful loss. Yet, the group did not go down in flames. Instead, they gracefully celebrated their ending with a history-making show in San Francisco—The Last Waltz, which became a legendary documentary directed by rocker Martin Scorsese.
Once Were Brothers is masterfully produced—not surprising given the Hollywood heavyweights supporting the film, Martin Scorsese, Brian Grazer, and Ron Howard
The Band was inducted into the Rock & Roll Hall of Fame in 1994, by Eric Clapton, a The Band member-wannabe.
As of this writing, 'Once Were Brothers' is in its theater run.