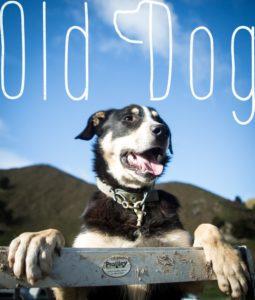 "I am eternally in a state of bewildered awe as to what they are capable of. I never look at the individual dog and say 'what a clever dog.' To me, it's the dog/shepherd unit that's most impressive."
Dr. Nick Cave, Massey University, New Zealand.
New Zealander Paul Sorenson had his fair share of an unhappy childhood, yet he found solace and healing in dogs. Sorenson began training sheepdogs at the age of 14. In adulthood he and wife Honey purchased a large farm, and managed a large flock of sheep with sheepdogs. Sorenson became a teacher, a television celebrity—and amassed a lifetime of awards.
In Old Dog veteran filmmaker Sally Rowe follows Sorenson and company as he does his work with dogs, and passes on his canine wisdom to farmers. Although Sorenson provides countless pointers, compassion and connection are the primary traits he imparts to his students. In retirement he still teaches farmers—without charge.
Seeing dogs shepherd sheep and cows is intrinsically fascinating. With Old Dog Rowe pairs that fascination with the raw beauty of New Zealand vistas.