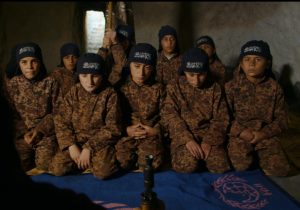 Of Fathers and Sons is Talak Derki's bold and brilliant documentary of his return to his homeland, covering the lives of a radical Islamic family and their small community. From the summer of 2014, through September 2017, Derki spent 300 days with a Syrian family living in the detritus of chronic war.
The central characters are father Abu Osama, and his two sons Osama and Ayman. Abu is one of the founders of Al-Nusra, the Syrian arm of Al-Qaeda. Abu believes in an Islamic society under Shari'ah law, and is raising his male children to join the jihad. The family's allegiance to their interpretation of Islamic law kept the women literally and figuratively out of the picture.
It is the children who form the film's character and narrative arc. Over the film's hundred minutes we see them first playing, and eventually entering guerrilla warfare training. By film's end, they are ready—from Abu's perspective—to join the endless fight.
Abu Osama died in October 2018, attempting to defuse a car bomb. He left behind two wives and 12 children.
Of Fathers and Sons was nominated for Best Documentary Feature at the 2019 Academy Awards®. It also received a nomination from the 2019 Independent Spirit Awards, as well as the Grand Jury Prize in the World Documentary category at Sundance Film Festival. It was also nominated in seven film festivals, and won awards from ten additional film festivals.
Of Fathers and Sons is a powerful, stunning documentary. The film reveals a world we occasionally ponder about and then forget. Talak Derki's film is unforgettable. I am in awe at his and his crew's cinematic accomplishment.
The film is available for streaming here
It is available for DVD or Blu-ray purchase here