From the film: "It's counter-intuitive, ironic even, but obits have next to nothing to do with death—and, in fact, absolutely everything to do with the life."
__________________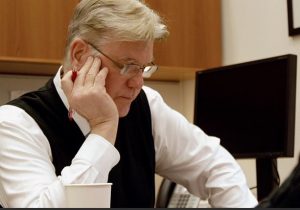 Vanessa Gould is one of those documentary filmmakers who is not prolific. I've seen all two of her films: "Between the Folds" about origami, and now Obit about the obituary writers of The New York Times. Although those two topics are light years apart, they share the quality, the passion of a master filmmaker.
Appropriately enough, the writers tell the story in Obit. They speak of the history of obituaries, and the challenges of writing a nano-biography—a flawless, instantly engaging 600 to 900 word piece—in a few hours. The goal is to get the piece in the morning edition.
If you are a famous or infamous person, you can reduce your obituary writer's stress—and, therefore, increase their lifespan—by dying anytime from early evening through early morning. An afternoon passing spells trouble for the writers. Also, don't die too young, they will not have an 'advance' ready for you—a pre-written obituary.
Obviously, obituaries make a tough topic. Gould has met the challenge, she has created a flawless, instantly engaging 93 minute piece.
Obit is distributed by Kino Lorber.
(Pictured William McDonald, Desk Editor)