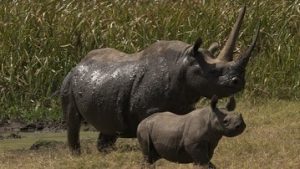 "We are the generation that are allowing the African elephant and rhino to go extinct. If you can't bring economical value to the local people to protect animals, then you will never win this war."
Interviewee: Remco Dykstra, Technical Advisor, GRI
Written, directed, and shot by Mirra Bank, No Fear No Favor covers African efforts to reduce—and, ideally, eradicate—the $20 billion a year poaching industry and to create environments that support both wildlife and human communities.
Over a period of more than two years Bank filmed in Zambia's Kafue National Park—one of the largest intact wilderness areas in the world—and in wilderness reserves in Kenya and Namibia.
The film includes a few images of the usual horrific slaughter of noble creatures, yet the primary focus is on conservation efforts of non-African and African citizens. Local people, working with NGOs like Game Rangers International support the establishment of community-led programs to save their wildlife.
We hear from a few of the wildlife protection workers, and see plenty of elephants—along with quite a few pangolins. One of the workers, Kingsley Munsyamba, was a poacher who got caught, and now helps protect orphaned elephants, rescued and nurtured by humans, then released to the wild when ready.
Poaching is very much alive and well, of course. I can only wonder who is winning. Global organized crime is driving the slaughter of precious wildlife with helicopters, night-vision technologies, and sophisticated weapons. The United Nations estimates African countries lose $50 billion annually to corruption—money that could and should be used to benefit both the peoples and wildlife of Africa.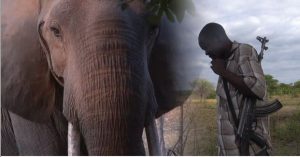 On the side of compassion and wisdom we have non-profit organizations, community organizers, and documentary filmmakers like Mirra Bank fighting the good fight on behalf of wildlife. Who's winning? I suspect the killers—and would love to be proved wrong. Another concern I have is the impact of the pandemic on African wildlife and human efforts to support it.
From the filmmaker:
My goal, of course, is to greatly expand the number of empowered viewers who—once aware of the problem and the value of grassroots interventions—will step up to make sure that:
1) international cartels DON'T win in the fight against the 20 billion a year black market wildlife trade
2) and that Africa's rightful/local stakeholders are full participants and sharers in the green profits that derive from protecting wildlife and wild environments. Ecotourism is the fastest growing non-extractive sector of Africa's economy.
When wildlife and natural resources belong to local people—when sustaining them brings material benefit—they are hugely effective partners in conservation.
No Fear No Favor is distributed by Bullfrog Films.
Trailer 
_______________________________________________________
Awards and Festivals
Filmmakers' Choice Award, Andrew Sabin Family Foundation Environmental Award, Hamptons DocFest
Outstanding Cinematography, Tallgrass International Film Festival
Outstanding Excellence: Cinematography,
Excellence: Feature, Nature Without Borders
Award of Excellence, Impact Docs
Award of Excellence, Docs Without Borders
Award of Excellence, Accolade Global Film Competition
Award of Merit, IndieFest Film Awards
Annapolis International Film Festival
Woods Hole International Film Festival
Port Townsend Film Festival
Out of Africa International Film Festival(Kenya)
Lighthouse International Film Festival
Friday Harbor Film Festival
March on Washington Film Festival