The official website for HBO's The Newburgh Sting includes a Resources link which lists several organizations:
Council on American-Islamic Relations, Brennan Center for Justice at New York University School of Law, American Civil Liberties Union, Muslim Public Affairs Council, Center for Constitutions Rights, and Human Rights Watch. I'm out of breath.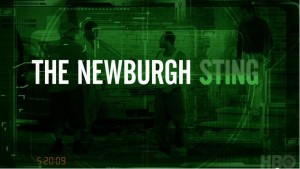 That's a lot of powerful resources. Whether or not their collective energies and those of others will be enough to reverse the injustice presented in this incendiary film by Kate Davis and David Heilbroner is an open question.
Their adversaries are various factions of the United States government.
In a very short amount of time, Heilbroner and Davis tell a very long story about our government's initiatives to put on 'shows' that make it seem it is making a difference in 'the war on terror.'
The victims in this particular show are four poor African American men from the impoverished city of Newburgh, New York.
In this 'show,' the FBI pays an 'informant' to create a terror plot and almost execute it. The informant manipulates these four men – who, for all intents and purposes, are neither Muslims nor terrorists – into a non-sense plot that includes two terrorist attacks on United States soil.
Much of the conversation between the informant and these gentlemen are recorded – along with videos of their activities. The FBI provides faux devices to the 'perpetrators,' and busts the four men one carefully-orchestrated, well-media-covered evening as they are about to carry out their pretend attack.
The informant is obviously much more than an informant. He is an agent provocateur who, unable to find authentic subjects, and desperate to keep his job, secures these patsies.
The bust and subsequent trial are planned and covered like a Hollywood movie. Utterly untrue public statements are made by the likes of New York Senator Charles E. Schumer and then-FBI director Robert Swan Mueller.
The four pawns are sentenced to 25 years, their appeal fails, and the case is now headed to the lop-sided Supreme Court.
We'll see if those above-mentioned noble organizations can help find justice for the four victims.
The film places this case in the context of an overall national strategy of phony investigations and prosecutions of supposed terrorists – extremely expensive 1984-type propaganda fed to a blinded American audience.
The Newburgh Sting is an example of investigative documentary filmmaking at its utterly finest.
http://www.hbo.com/documentaries/the-newburgh-sting#/documentaries/the-newburgh-sting/