Canadian singer/songwriter Rita Chiarelli wanted to visit the 'birth of the blues' which was, as she understood, Angola prison in Louisiana. There she found prisoners serving life sentences who play and sing music with the skills of seasoned professionals.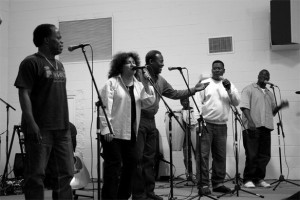 Chiarelli resolved to put on a show of their music. It took her ten years, but she did it, and that show's impact expanded way beyond Angola's walls.
As of the film's production, in the State of  Louisiana 'life means life.' There is no parole. The Board can reduce a sentence, but rarely does so. One of the more desirable rooms at Angola holds 50 bunk beds. The prisoners keep their life belongings in a trunk by the bed. Louisiana provides a dark window on an American justice system that is more, much more about punishment and politics than about justice.
McDonald's camera follows Chiarelli around the prison. A shiny Christian cross embracing her heart, she speaks with the musicians—their faces, their facial expressions, their eyes, and their voices all reveal lifetimes of tragedy, despair, hope, and transcendence. They could not have a better friend than Rita Chiarelli.
Prolific director Bruce McDonald provides a cornucopia of heart-breaking and inspiring stories together with a great concert. He has told a powerful story about the triumph of the human spirit over the inhuman conditions.
Shot in black and white, the film's images are so rich and clear I felt as if I was viewing a Blu-ray disc instead of a standard DVD. The music is well produced and recorded. I wanted more – to make an understatement. This is one of those documentaries that deserves to be seen by… everyone.