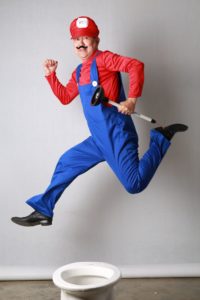 "It is not right that 2.5 billion people in the world still do not have access to proper sanitation—when we can send spacecraft to land on Mars."
Jack Sim
Mr Toilet: The World's #2 Man is a profile of toilet and sanitation crusader Jack Sim who wants to rid the world of open-air urination and defecation, and to provide, instead, private sanitary toilets.
From the film's website: "Not having a place 'to go' isn't just an inconvenience, it's a problem that impacts 2.4 billion people worldwide. In India alone, 200,000 children die each year from lack of safe sanitation, while women are regularly raped because they have to defecate in public spaces.'
That's some serious 'shit'—Sim's preferred term for feces.
Sim was born in, and is based in Singapore. He has a loving wife, Julie, and four children—Faith, Truth, Earth and Worth—all of whom appear in the film. Sim started out as a successful businessman, felt a sense of meaninglessness, and dedicated himself to the goal of ensuring that everyone has access to a sanitary, private toilet.
Sim is energetic, creative, innovative, joyful and passionate in his pursuit of this admiral goal—one which takes him around the world. He now has a global profile which includes starring in this excellently produced, fully engaging documentary directed by Lily Zepeda.
The film proffers some of Sim's accomplishments. I include his Wikipedia page Here, however, simply because I was overwhelmed by the amount and quality of contributions he has made and continues to make to our world.
To get you started, though, Jack Sim is the founder of World Toilet Organization. At his bidding the United Nations, in 2013, declared November 19 World Toilet Day.
True Confession: I chose this film to cover because I became fascinated and bemused by the world's obsession with hoarding toilet paper in response to the Corona virus pandemic.
The whimsy of that impulse aside, I am happy to relate that Mr Toilet: The World's #2 Man is an important documentary film that everyone should see—especially politicians and their staffs at every level of government around the world.
This Just In: Mr. Toilet, the film, has signed with distributor Journeyman Pictures. Check the website occasionally for ways to see the film.