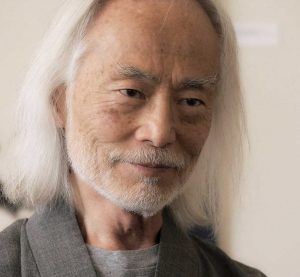 Moving from Emptiness profiles Alok Hsu Kwang-han who is called a 'Zen calligraphic painter.' The phrase is way too small. He is a teacher of Zen Buddhism, an artist, and workshop leader. But those words do not come close to capturing who he really is.
Filmmakers Jerry Hartleben and Shaeri Richards have done the impossible. They have received—the word, 'capture,' simply does not apply—his essence, and share that in this feature film. We see and hear the 74 year old Alok teaching, helping people one-on-one, painting, speaking about his life and work, and talking with and about his companion, Raylene Abbott, who deserves her own documentary.
If one is to make a film about a Zen master, that film, to be successful, must mirror the tone and substance of that being presented. Richards and Hartleben do just that in every aspect of their coverage of this man who exudes compassion, peace and wisdom—and who does not fit the stereotype. In speaking about his life, Alok expresses emotion freely.
After just a few minutes I knew I was seeing a special film. At its conclusion I knew I'd just seen a masterpiece of documentary filmmaking. It is so rich in wisdom, story, and image, it deserves multiple viewings.
Moving from Emptiness is a Kino Lorber release.