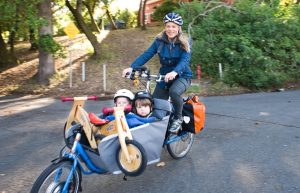 There are two stories in Liz Canning's MOTHERLOAD. The first is Canning's own narrative about the personal experiences and social forces that brought her to the world of 'cargo bikes'—bicycles that transport more than just the rider. The second story is about the emergence of cargo bikes as a global phenomenon.
What is quickly apparent as her documentary unfolds is that both stories are equally serious and joyful.
Canning recounts her experience riding bikes early in life, the years she lived sans bicycles, and the surprisingly great value of cargo bikes she found for herself, her family, and last but not least, the world.
There is a feminist theme throughout the film starting with the popularization of bicycles in the 1890s when women took to bikes virtually immediately, discovering a newfound sense of liberation. Women are now the dominant demographic buying and riding cargo bikes to make their lives less stressful and more joyful.
The film covers several pioneers in the development and marketing of cargo bikes, the use of cargo bikes around the world, and the positive environmental impacts that the bikes are making now, and will make even more powerfully as their use becomes more widespread.
MOTHERLOAD is a serious, joyful, playful, winning film that deserves a giant audience—one that includes policy makers who share environmental concerns. And it has a beautiful, uplifting soundtrack.
Kudos to Liz Canning for her moving—in many senses of the word—film. She is the writer, director, cinematographer, animator, narrator, and producer of MOTHERLOAD!