"We weren't trying to get anything our way; we wanted it that way for our descendants, for the rest of the world." Unidentified Interviewee
Monumental is a biography of environmental pioneer and warrior David Brower as well as an  outline of the history of the American environmental movement.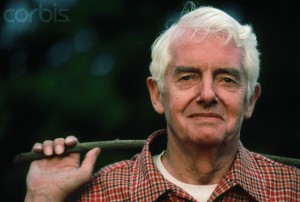 Brower was born in 1912, in Berkeley, California. He became a pioneering rock climber, saw action in World War—the Army wisely taking advantage of his mountaineering abilities in order to train and lead soldiers.
Brower met his wife, Anne Hus Brower, when they were both editors at the University of California Press. Providence brought Ansel Adams and Brower together hiking in the Sierras. Adams became his mentor.
Brower utilized his skills as a writer, photographer, cinematographer, narrator, public speaker and leader in accomplishing his life's work. Those skills were all in service to his immeasurable passion for protecting the natural world. It is this passion of protection and conservation that stands out clearly in director Kelly Duane's homage to Mr. Brower and his many heroic accomplishments – including leading the battle to save Arizona's Grand Canyon.
Monumental features hard-to-find color outdoor footage from the late 1930s through the 70s, interviews with those who worked with Brower (or were affected by his work), news footage from Brower's life and times, and text providing critical information.
The DVD includes plenty of "Special Features" one of which is a short film produced, shot, and narrated by Brower about the tragic damning of California's Hetch Hetchey Canyon – also known as 'The Second Yosemite.'
Monumental is a First Run Features release.