Monk with a Camera is a delightful, engaging, and fascinating documentary about the life and times of Nicholas Vreeland who is the first westerner to become an Abbott of a Tibetan Buddhist monastery.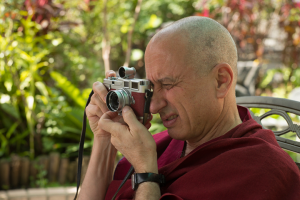 The son of an American ambassador and grandson of legendary Vogue editor Diana Vreeland, 'Nicky' was raised in a variety of places around the world. He adopted elegant dress from early childhood, and became a professional photographer. After years of living and loving in high society, he began studying Tibetan Buddhism and eventually became a monk and renunciate.
Since that time Vreeland has been in an ambivalent relationship with photography which is something he both enjoys, is highly proficient at, yet believes is not appropriate to his renunciate commitment. Irrespective of that inner conflict, the world and this film is all the better for his photographic creations—including the monastery he helped build and saw through a severe financial crisis in 2008. He returned to photography by taking pictures of the monastery and surroundings, raising $400,000 for its completion.
Whether sporting western or eastern attire, Vreeland's dress is immaculate. And the documentary about him is produced as such. The filmmakers take us to New York, India, and many places and people between, all in style and grace.
http://asphalt-stars.squarespace.com/#about-the-film