Produced for television in 2003,  A Model for Matisse is a sweet, simple, gratifying story of the friendship between the aging artist and 21-year old nursing student Monique Bourgeois – who eventually became Sister Jacques-Marie.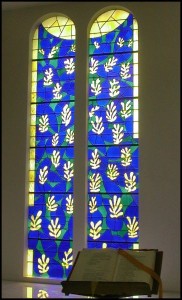 The two met in Nice, in 1941, when Matisse was recovering from cancer and its treatment, and was in need of "a young and pretty night nurse." Their friendship lasted the rest of Matisse's long lifetime.
There's a fair share of magic to their story. Life circumstances separated them geographically a few times, and providence reunited them. The most dramatic magic is expressed in the creation of Chapelle du Rosaire de Vence (Chapel of the Rosary) which came about through a set of synchronistic events involving the two friends.
The chapel was designed by Matisse who also designed and/or created most – if not all – of its interior and exterior elements. In one way or another each of the barriers to the creation of this chapel were overcome by this aforementioned magic.
This is a film non-French language comprehending viewers will want to view twice. Most of the film's audio is the voice of Sister Jacques-Marie telling her beautiful story in her beautiful native French. English subtitles appear in white at the bottom of the screen.
They are difficult to follow and, of necessity, distract the viewer's eye from the visual beauty of the film. This is one of those rare times when I would have preferred an English voice track vis à vis the story-teller's voice. Given the non-stop beautiful images of southern France, Matisse's works and workings, and the chapel itself, reading the subtitles is, obviously, quite a sacrifice. A second viewing to appreciate the beautiful images – and, especially, the archival footage of Matisse – is a vital necessity.
http://firstrunfeatures.com/modelformatissedvd.html