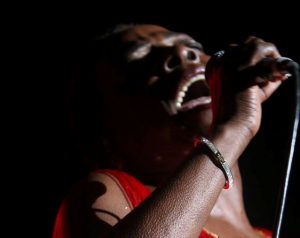 With Miss Sharon Jones! massively prolific filmmaker Barbara Kopple has delivered a joyful, tearful film about the trials and triumph of the formerly unheralded Sharon Jones. With grace, respect, and affection, two time Academy Award-winning Kopple follows the soul singer through a year of treatment for pancreatic cancer—one of the more lethal varieties of this disease.
'Indomitable' is the first word that comes to mind after seeing Jones suffer from her illness and its treatment, maintain her golden heart and joyful spirit, survive, and return to the studio and the road.
Jones is surrounded and supported by her band, The Dap-Kings—as well as her manager, steadfast friends, and her doctor who attends her triumphant return to the stage. Along the way Jones visits places of her past. She shares reminiscences—including the horrors of racism she experienced directly.
Coda: Tragedy and dark humor merged when Jones suffered a stroke while watching the 2016 election results on television. She was aware of this irony, and joked about the coincidence. Sharon Jones passed away on November 18, 2016.
Miss Sharon Jones! can be found in iTunes, Netflix, and possibly other on-demand sites.