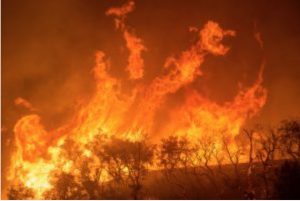 "We have very large airplanes, very large helicopters, lots of equipment on the ground, lots of people, fire engines—all of that, and there is no trend that we can see that indicates that we will ever be able to control extreme wildfires."
Jack Cohen, Research Physical Scientist, (Retired), Missoula Fire Sciences Laboratory, US
Cosima Dannoritzer's MEGAFIRES is about forest fires that are out of control—aka wildfires—burning massive amounts of land, destroying homes and structures, killing and injuring wildlife and humans. Us west-coasters have had our fair share of them of late. Megafires, however, don't play favorites. They are destroying around the world. America's blinder-filled news media rarely report fires outside of the country's borders.
MEGAFIRES takes viewers around the world providing horrific visions and stories of uncontrolled fires, and speaking with those who are battling against these fires, and those doing research to end this global nightmare.
The powers that be in the United States already know how to prevent megafires, but, like global warming, there is miniscule political will to take effective action. In any case, as Smokey the Bear says, us humans are directly responsible for these fires, and, of course, it is up to us to prevent them—through political actions. One interviewee comments, "We have about 20 years to get the needed work done."
Learning about the factors feeding the emergence of megafires, it seems the most crucial two are lack of proper forestry management and, of course, global warming. The film provides firm evidence of why and how warming is contributing to megafires.
But, hope springs eternal. MEGAFIRES can open up eyes, ears, and minds. It is another very well-produced environmental documentary that deserves a global audience.
The film is making or has made its Bay Area premier at the 23rd UNAFF 2020 International Documentary Film Festival in October 15 -25.
The schedule is now online at:
Link for tickets is:
Stay in touch with filmmaker's work: http://www.facebook.com/cosima.dannoritzer
Information about protection from fires: https://twitter.com/Megafires1
(Photo by Kari Greer)