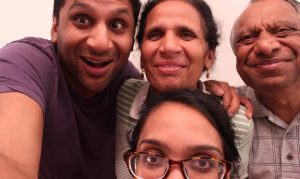 Ravi Patel is torn. He has a great relationship with his American girlfriend, but his Indian culture calls. His parents want him to not only marry a woman of his ethnicity, she needs to be a 'Patel' which is 'a thing'—that is, there is a very large collection of people in India with that last name who live within a 50 square mile region. Marriage within the…. 'clan?' is very important—even if your parents immigrated to the United States and you've been raised in our culture as Ravi has.
By the way: Ravi has not told his parents about his American girlfriend, Audrey, and the two have been dating for two years.
Ravi breaks up with her, and begins a journey to India, and throughout North America, seeking a Patel girl. (Turns out the Patels have organized themselves and their marriage mores in our continent, too.)
Sister and filmmaker Geeta grabs a camera and shoots Ravi's adventures. In addition to the beautiful ex-girlfriend Audrey, we meet a lot of Patels as Ravi struggles to find one to marry—and, especially, to satisfy the cultural expectations of his parents.
Ravi Patel is totally charming, sincere—and very lost. His quest is as painful as it is humorous. Be prepared. "Meet the Patels" is not just about the Patels, it's about parents and adult children, expectations, culture clashes, and changing times—it's about us, and it is evocative of our memories, thoughts, and feelings as regards our parents and our parenting.
I would be surprised to find out that Geeta and Ravi have not already written a romantic comedy to be released in 2016.