Casey Cohen's A Matter of Time is as heart-wrenching as it is inspiring.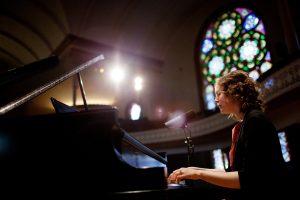 Cohen tells the story of singer/songwriter Kathryn Calder who, in the middle of her rise to indie rock stardom, found herself caring for her mother, Lynn, who was dying from the devastations of ALS—amyotrophic lateral sclerosis, or Lou Gehrig's disease.
Mother and daughter had a deep, loving bond, and daughter didn't hesitate to interrupt her career to care for her mother. One of the activities Calder included in her care was to entertain and express love to Lynn by writing and producing her first solo album. Calder set up a recording studio in their living room, wrote the songs, sang, played piano. She had members of her former band, Immaculate Machine, and current band, The New Pornographers—sit in on the tracks. Lynn's room was next to the living room. The album is entitled "Are You My Mother?" and was released in 2010.
Although the film is intrinsically a call for support to find a cure, that call is graciously in background. The primary focus is Calder's story, and the loving mother-daughter bond.
Casey's film is deeply touching, the courage of mother and daughter, deeply inspiring.
A Matter of Time is distributed in the United States by First Run Features, and in Canada by Kino Smith in Canada.