Initially presented by HBO, first-time feature director Matthew Akers' Marina Abramovic: The Artist Is Present is a broad biographical outline of the legendary performance artist.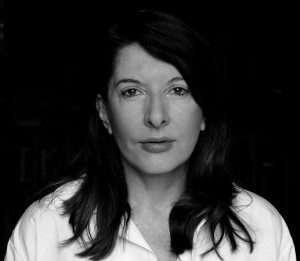 The impetus for the production was a 40-year retrospective of Abramovic's work at The Museum of Modern Art, in 2010, in New York. The three-month exhibition included a new piece called "The Artist Is Present". During all open hours of every open day of the museum the artist sits silently still in a chair while museum attendees sit, one at a time, in a chair a few feet across from her.
As is usual with many of the documentary films I see, I never heard of Marina Abramovic, and I know next-to-nothing about the film's world – performance art – other than a few clips of Laurie Anderson back in the day, and most of these were stylized music videos.
I wouldn't dare say I now know about performance art, but I can say I know about Abramovic. Her performances, her life, and her thoughts about them evoked a plethora of feelings and conditions in me: Fascination, compassion, gratitude, wonderment, horror, and fear. I was left with a desire to tell the world about this dedicated artist. But of all these feelings, the dominant one is gratitude for Marina Abramovic's courage and tenacity to express her provocative art, to share her fundamental humanity with the world.
I place this one on my AMS list – absolute must-see.
The film is distributed by http://www.musicboxfilms.com/
http://marinafilm.com/
ART SY's Abramović Page: https://www.artsy.net/artist/marina-abramovic-1