Phillip Toledano is a prolific multi-media artist. Very multi-media, very prolific. Here is his CV.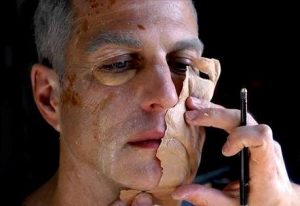 The Many Sad Fates of Mr. Toledano is filmmaker Joshua Seftel's faithful coverage of iconic photographer Phillip Toledano's three-year-long personal exploration of his fears of growing old. Based on DNA tests and consultations with fortunetellers, he acts out several fates that possibly await him in the next 40 to 50 years. (His wife calls it "immersing yourself in your fears.") Seftel follows Toledano as he creates a set of elaborately produced tableau-like photographs of these possible fates—which include stroke, obesity, homelessness and suicide.
Almost immediately after the film's beginning, I was thrust decades back to my reading of legendary psychiatrist Fritz Perls, who spoke and wrote of the 'catastrophic expectation' and how crippling it can be to live one's life with haunting ideas and images of the worst that can happen—which is all to say that I was immediately empathetic with Mr. Toledano's plight since I struggle with the same propensity.
Empathy aside, the extent to which Phillip Toledano pursued this project and the skills he brought to bear are utterly jaw-dropping. Seftel's 26-minute film introduces the man, his mission, and follows the showbiz axiom 'leave them wanting more'—of the project, its impacts, and of Toledano's other work.
The Many Sad Fates of Mr. Toledano may be found in Season Five of the New York Times' Op Docs Project. It can be viewed here.