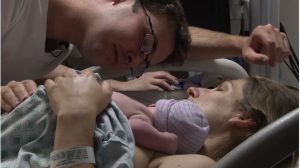 Brigid Maher's The Mama Sherpas introduces the practice of nurse-midwives. The film covers their work in four birthing centers. The primary purpose is to promote this work and, in so doing, help reduce the number of unnecessary Cesarean births—and humanize our approach to the birthing process. Psychological pain, side-effects, scaring, and costs are all reduced. Midwives even know techniques to reduce the need of an episiotomy during childbirth. One birthing center reported that over a three-year period 93% of one thousand births were vaginal. The national rate is approximately 68%.
Legendary, pioneering midwife Ina May Gaskin makes a brief appearance. At film's end we learn that midwives are licensed to practice in five states, but nurse-midwives are able to practice in all fifty states. The point, this integrative approach is accessible.
The film includes several births. Just witnessing a birth on screen has a profound impact. I've seen several so far, and it never ceases to evoke powerful emotions.
How many people have witnessed births? It was only in the second-half century of my life that I saw them—via documentary films. Witnessing a human birth should be close to a requirement for adolescents. The Mama Sherpas is an ideal way to raise teenagers' consciousness of birthing.
The Kino Lorber DVD includes deleted scenes.