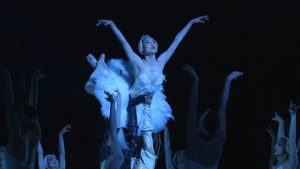 At the age of 32, Maiko, a prima ballerina, decided to become pregnant, but did not decide to conclude her career. She kept on dancing several weeks into her pregnancy, suspended her career, delivered her child, and determined to regain her prima ballerina status.
Maiko was given that name at birth. It means 'dancing child.' No one knew the name portended two would be dancing.
Aside from seeing many documentaries about ballet, that terpsichorean word denotes a faraway foreign territory to yours truly. My best guess, though, is that for a 32 year old soloist to bear a child, make a triumphant return in one of ballet's most challenging dances, Swan Lake, is an unprecedented phenomenon. I doubt this jaw-dropping phenomenon will ever be repeated.
My only kvetch about this film is that it is so captivating, so challenging to our credence, and so beautifully shot, I wanted much more of the story.
Directed by Åse Svenheim Drivenes, Maiko: Dancing Child is a First Run Features release.
Japanese Website