Laura Dekker was thirteen when she decided to be the youngest person ever to sail around the world alone. Her father reluctantly agreed, but the dream odyssey was delayed when The Netherlands' government did not agree. Said government spent ten months attempting and failing to wrest custody of Laura from her father.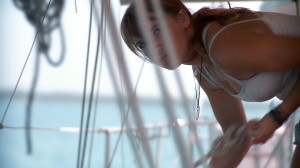 Dekker set out on her boat, 'Guppy', at the age of fourteen, took two years, sailed around the world, created a sensation, broke the record, provided most of the footage of this film—and, afterwards… kept on sailing.
Jillian Schlesinger's Maidentrip starts out with that sensational legal battle, then brings the 'I-can't-believe-what-I'm-seeing' viewer on Dekker's astounding voyage. As I write these words, I still can't believe it. Dekker and her odyssey are equally fascinating, jaw-dropping.
And what a gargantuan task Schlesinger and veteran editor Penelope Falk took on and accomplished in making this documentary film—covering a two-year journey in just 82 minutes.
Dekker's journey and this film confront each of us with our perceived limits of what is humanly possible, and, especially, what potentials our youth carry in their bodies, minds, and spirits.