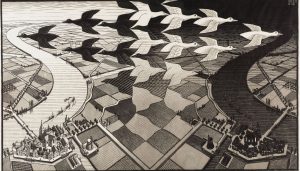 Every once in awhile I see a documentary film about which I am on fire. M.C. Escher: Journey to Infinity is now one of them.
In telling and showing the epic story of M.C. Escher's life and art, director Robin Lutz has produced a masterpiece worthy of the artist's legacy and legend. Lutz has gathered Escher's words from his diary, lectures, correspondences and more, and charged actor Stephen Fry to perform this narration spoken as the renowned artist.
Lutz provides the requisite large number of Escher's images as well as archival black and white film, and animations. It also appears that Escher's work is a portent of the elaborate moving fractal images available to much of the Earth's population.
Escher's two sons appear throughout the film, as does singer/songwriter Graham Nash who appears near the beginning and end of the film expressing his admiration for Escher's work, and how it changed his life.
Yours truly will purchase the film's disc, if there will be one, as soon as it's available—preferably on 4K.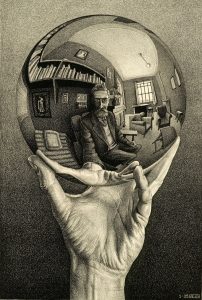 M.C. Escher: Journey to Infinity is a Zeitgeist Films release in association with Kino Lorber.
(Photos © The M.C. Escher Company B.V.-Baarn–the Netherlands)