Louder Than a Bomb covers the annual Chicago High Schools-based "Poetry Slam" called, of course, Louder Than a Bomb.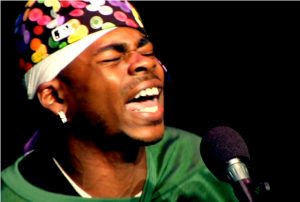 Produced and directed by Jon Siskel and Greg Jacobs, the film follows four teams and four individuals—Adam, Lamar, Nate, and Nova—in the eighth year (2008) of the competition in which 46 teams participated.
In one fell swoop we learn about "the world's largest youth poetry slam," get to know these four competitors through interviews, hang out in meetings and rehearsals with the competing students, teams and their coaches, and, most dramatically, see and hear a few of the students' performances in competition.
Except for one gray-area usage involving the last names of the United States' President and Vice President during the years 2001-2009, there is no profanity used in the competition's performances. This requirement adds an additional challenge to the writing and performing. Although I have nothing against profanity, this restriction catalyzes more powerful writing and performing. Also note that the students talk fast; and with music and other background sounds complicating matters, I hope you see the film with subtitles or Closed Captioning.
I was brought to tears several times throughout this film as I experienced the featured performers at home, in interview, and in competition.
Louder Than a Bomb is a selection of the "OWN Documentary Club".
Additional performances are available on the film's website.
http://www.louderthanabombfilm.com/
http://en.wikipedia.org/wiki/Slam_poetry
http://www.youngchicagoauthors.org/
http://www.oprah.com/own