Narrated by Avrom Bendavid-Val, Lost Town tells the story of Trochenbrod, a town which was located in an eastern region of Poland—and which is now a western region of present-day Ukraine.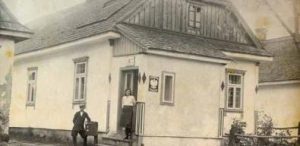 Bendavid-Val opens the film by expressing regrets for never having gotten to know his always-busy father who was born in Trochenbrod, and who migrated to the United States.
After his father's death in 1969, Bendavid-Val became obsessed with his father's place of birth. That obsession led to a cornucopia of minor miracles for the survivors of Trochenbrod and the townspeople's descendants who discovered each other and re-created a global community of people associated with the lost town.
Trochenbrod was settled in the early 1800s, and with its population of 5,000 people it became the only all-Jewish town—outside of Palestine—to ever exist in the world. With the exception of 33 townspeople, the entire population were murdered during the Holocaust. The town's structures were subsequently destroyed. All that is left is the knowledge that the town was located along a specific 3-mile stretch of roadway.
The film's production quality is excellent, and the emotional impact of the many personal stories is deep and profound. This is a film that deserves more than one viewing.
Lost Town was inspired by Bendavid-Val's book, The Heavens Are Empty. The film was written and edited by Richard Goldgewicht, produced by Jeremy Goldscheider, and directed by the two.
Trochenbrod first came to the world's attention via Jonathan Safron Fore's Everything Is Illuminated which was adapted for film by writer/director Liev Schreiber.
http://www.7thart.com/films/Lost-Town